Become a SwissBorg Affiliate and help shape the future of finance
Become a trusted affiliate partner with a licensed company that makes transparency, security and community its number 1 priority. Start earning passive income by helping others find a smarter way to manage their wealth.
Become an affiliate
Up to 20% RevShare commission
from trading fees and yield generated with Smart Yield wallets
Earn Reward tickets
Earn Reward Tickets in addition to RevShare
30% fixed commission for big token holders
Fixed commission of 30% when becoming a big CHSB token holder
Lifetime income
Affiliate program with no expiry date
Get continuous support
Get support from an affiliate manager, a VIP hotline, and an affiliate Discord group
Get paid in USDC or CHSB
Get paid in USDC or CHSB, SwissBorg's multi-utility token
Choose your program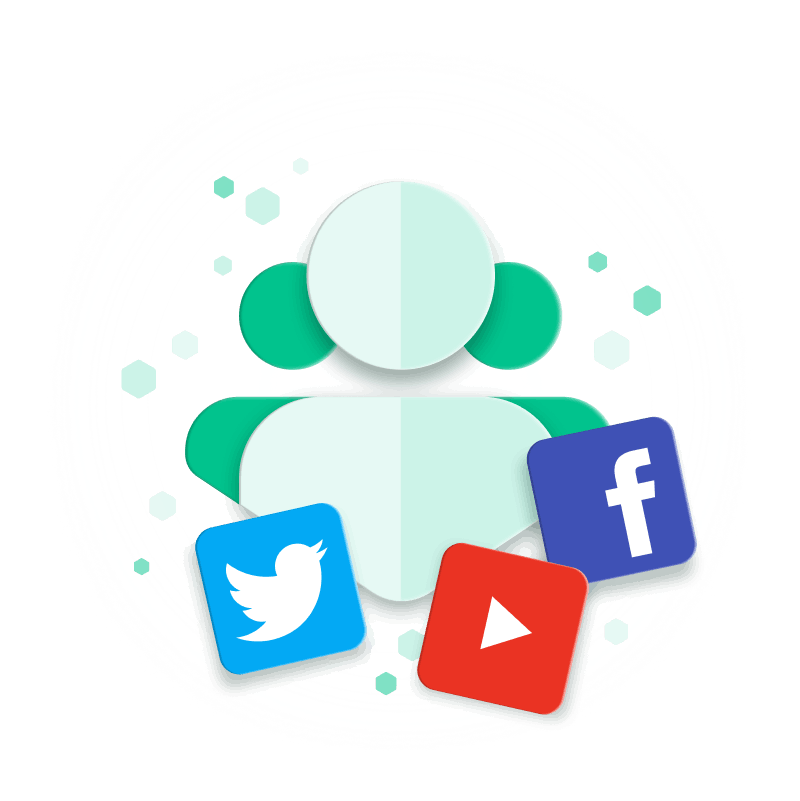 I am a SwissBorg app user and crypto enthusiast
This type of program will suit anyone (individual or a company) who is interested in promoting SwissBorg through their social media accounts or directly through their social circles, and earn passive income based on referee's trading activity.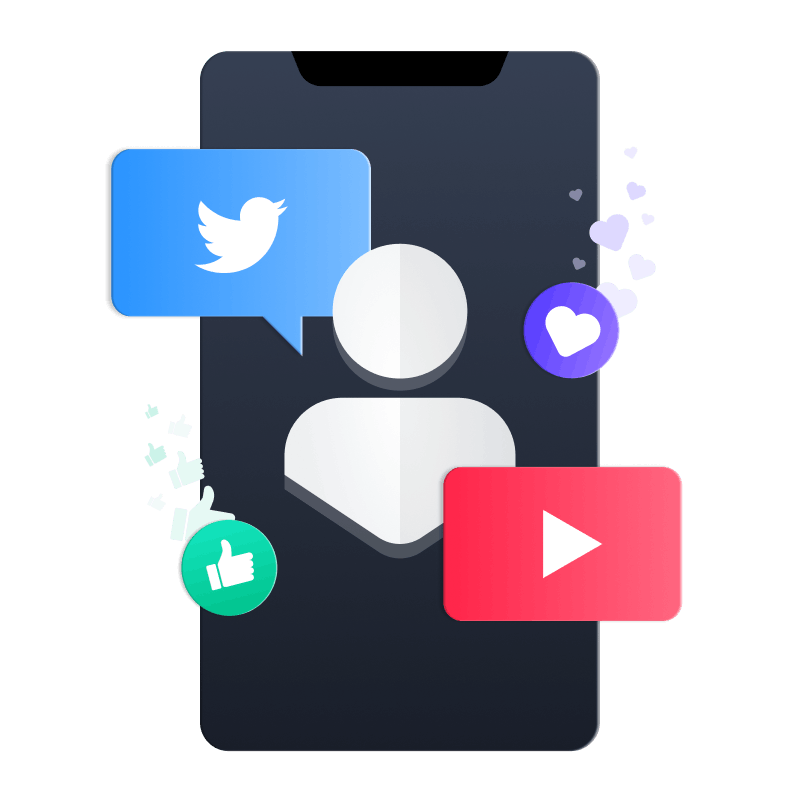 I am an influencer
Have a popular YouTube channel, Twitter account or social media presence
Have a network of high net worth individuals that are interested in crypto trading/investing
Have a consulting firm involved in the crypto and traditional finance industry
Have an educational podcast about Bitcoin and crypto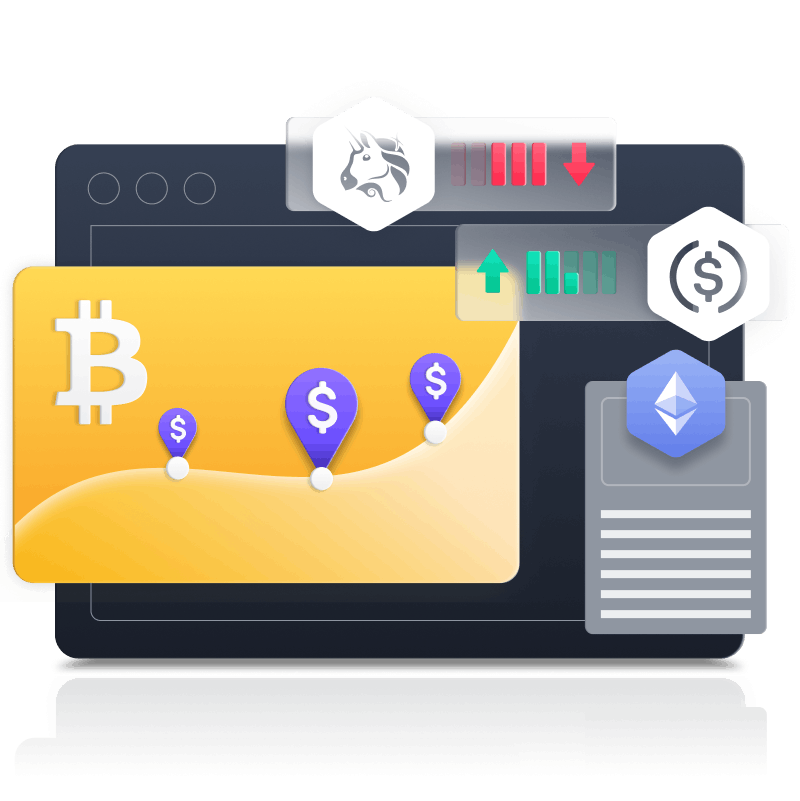 I am a media company
A Crypto media website and/or a crypto news app
A personal blog about financial and blockchain industry
Trusted crypto market data and analytics website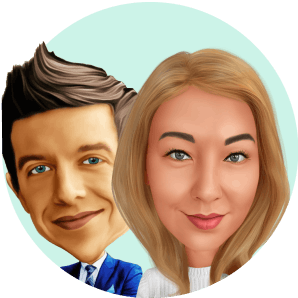 Schedule a one-on-one meeting with our affiliate manager
Discuss partnership terms, set expectations and define goals
How to be a SwissBorg affiliate
1

Download the app
Fill up our affiliate form here and download the SwissBorg app. Find your invite link in the Rewards tab and start sharing it with others.

2

Promote SwissBorg
You will receive an affiliate kit after your registration to help you promote SwissBorg. Watch our PowWows and join our social media channels to stay updated and connected with the community.

3

Earn rewards on your referrals
When a new user signs up with your link and transfers €50, you will both earn a Rewards Ticket. SwissBorg will also start tracking the potential affiliate revenue generated by your referrals.

4

Receive your affiliate payout
Once your referrals generate the required affiliate revenue, our affiliate manager will contact you and assist with your first payout. From here, you will earn ongoing passive income from trading and Smart Yield fees in CHSB or USDC.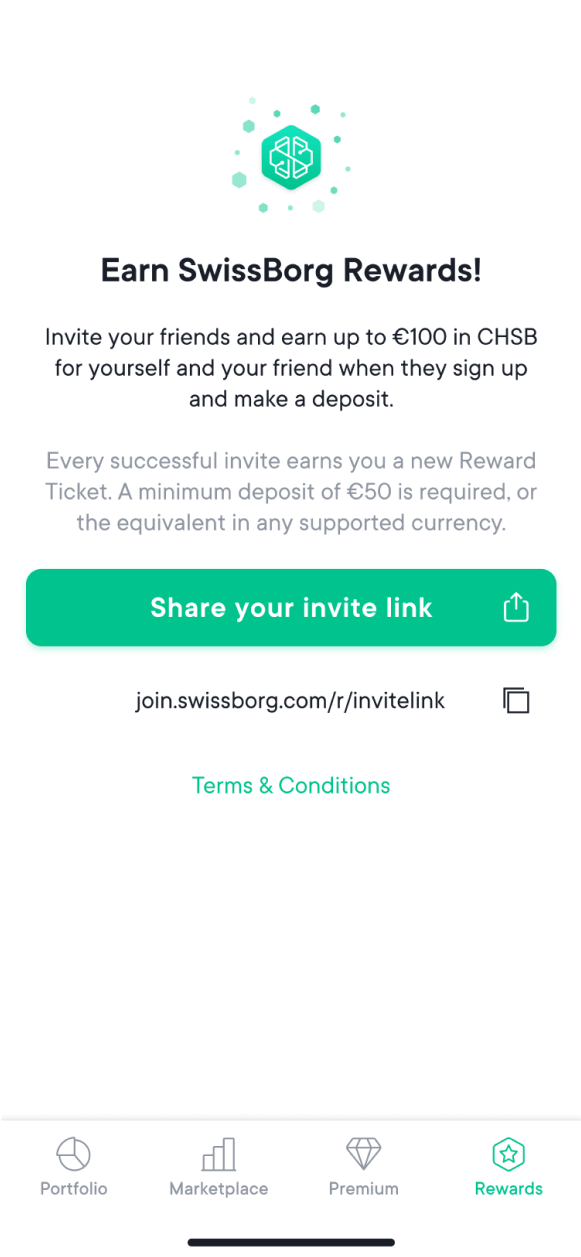 To help you along the way
Our affiliate assistance package includes:
Alerts
Notifications from an affiliate manager when you hit $200, $500 and $1000 in revenue
Pitch decks
Pitch decks to promote the app and introduce people to SwissBorg
Creative assets
Marketing banners for your website and social media platforms
Q&A sessions
Monthly SwissBorg affiliate program presentation followed by a Q&A session
Become a SwissBorg Affiliate
Earn ongoing passive income promoting a trusted and accessible wealth management ecosystem.
Apply Now
FAQ
How does the affiliate program work?
All you need to do is register via the application form and start sharing your invite link to earn passive income.
Our affiliate program is based on a revenue share model which means you earn commission from the trading activity of the users you invite, specifically the trading fees and yield generated with the Smart Yield wallets.
Steps to follow to become an affiliate:
Submit the application form on the website
Receive the introduction email with the link to marketing banners, pitches decks and more FAQs.
Start sharing your invite link with others and invite them to join SwissBorg
Monitor your performance by checking emails from the affiliate managers or requesting data directly from affiliate@swissborg.com
Sign the affiliate agreement when reaching the minimum payout threshold ($1000) and start receiving your affiliate weekly report.
Get paid at every $1000 earned.
Is the affiliate program available in my country?
Please check this page to find out if the affiliate program is available in your country. If you can't find your country on the list, it means the program is not yet available there. 
Please note that there are sometimes country-specific restrictions that prevent us from temporarily onboarding affiliates in certain countries/regions.
How do I know if I qualify?
We do not have any specific requirements to become an affiliate - anyone can do it. 
However, we sign the official affiliate contract when you have reached the minimum payout threshold - $1000. Until then, the rewards will accumulate in your profile.
Even though we do not have a designated affiliate backend, the affiliate manager will let you know via email when you hit $200, $500, and $1000 in revenue.
For Swiss residents only. If you are a Swiss resident please be advised that you can only get into the affiliate partnership if you are self-employed or are a business owner.
Please note that there are sometimes country-specific restrictions that prevent us from temporarily onboarding affiliates in certain countries/regions.
Where can my invite link be found? 
How is commission calculated and how much can I earn?
Every time a person you invited trades or generates yield, you earn a commission.
Commission rates are the following:
Volume generated in the last quarter
Custom commission rate by staking CHSB (>100,000)
Each tier is associated with a traded volume per quarter and a commission rate. Commission rates apply to trading fees and a yield generated through the Smart Yield Wallets.
An example of how affiliate revenue is calculated with a user-traded volume of $1,000,000:
Let's say the collective traded volume of the users you invited is 1,000,000 (BTC/USD), this means they paid 1% (Standard users) or 0.75% (Community Premium users) in fees, which is $10,000 or $7,500.
You will earn a starting rate of 10% from $10,000 (or $7,500 in case of the Community premium) of the trading fees. The rate will increase as the traded volume increases.
 Simultaneously, the same rate will apply to the total yield generated through the Smart Yield wallets.
Please note that:
As Genesis Premium users pay little commission for trading most assets, their trading fees will contribute the least to the affiliate revenue. Yield generated by Genesis Premium users will not contribute to the affiliate revenue. 
CHSB yield is not included in the affiliate revenue.
Your personal trading volume will not be included when calculating the commission rate.
The commission is calculated per quarter and every quarter it zeros up. This means each new quarter starts from the lowest commission rate unless your commission rate is fixed.
When do affiliates get paid? 
An affiliate is paid when they reach 1,000 USD in revenue. The payment is made during the first week of every month into the SwissBorg app. 
After your affiliate rewards are paid into your SwissBorg account, you can exchange them into any currency supported by the app. You can safely use SwissBorg in-app wallet to store your rewards, send them to another wallet or withdraw them to your bank account.
How can I track my performance before becoming an affiliate? 
There is no affiliate backend or dashboard. However, our system continuously monitors the performance of every single user that enrolled on the affiliate program via the online application form on our webpage and as soon as one of them qualifies to become an affiliate, it lets us know. 
We will notify you when you reach $200, $500, $1000 in revenue. In the meantime, you can reach out to us at affiliate@swissborg.com to see where you stand in terms of revenue.
Where can I find marketing materials/pitch decks/presentations? 
Please use the link to the affiliate Google drive sent to you in the introduction email after you fill out the application form. 
Are there any restrictions on how affiliates can advertise SwissBorg? 
We want to be as open with advertising as possible and accept most forms of it. You can use the marketing banners, slides from the Pow Wow, etc on your website or social media platforms to promote SwissBorg's products and services. However, please avoid copying and pasting content directly from our website as this can have a negative impact on our search engine rankings, making it harder for people to find us. 
It is important, however, you make sure the opinion you give is your own. If you are hesitant about whether a specific form of advertising can be used, please contact the team.