CHSB Yield 2.0: How will it work?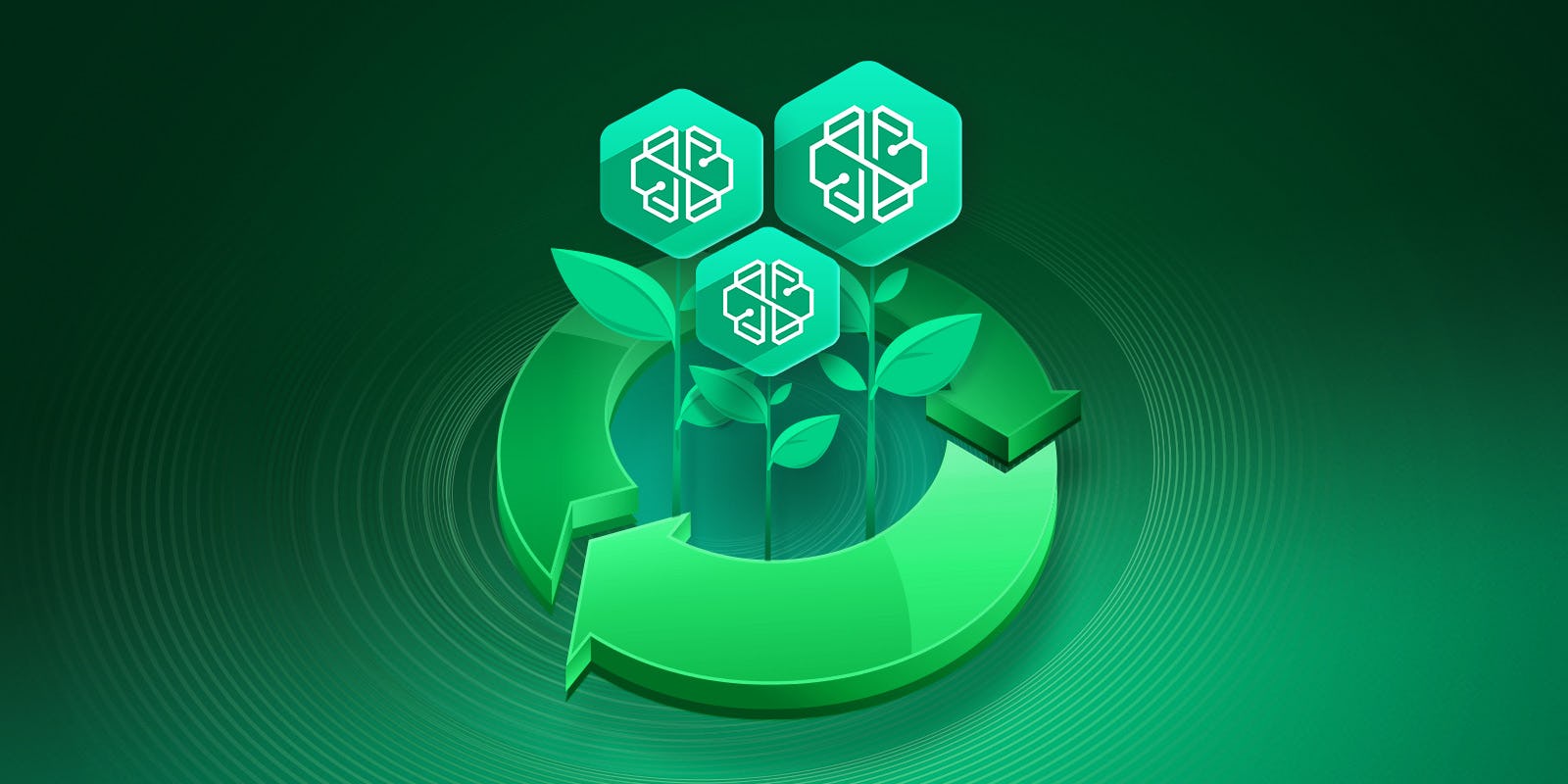 If you invested in the CHSB token before the launch of the SwissBorg app in March, 2020, you know our token has experienced a rollercoaster ride. 
CHSB's price was set at 10 cents for our ICO, and then plummeted in the crypto winter from 2018 to 2020. During that period, investing in large amounts of CHSB was much more accessible, with our Genesis Premium account costing just $1,000 in the early days of our app.
When the crypto market boomed, so too did CHSB and the size of the SwissBorg community. In just a few months, our token skyrocketed from 8 cents to an all-time high of $1.65, and our community of app users grew from 50,000 to over 400,000! Even in the current market volatility, those who invested early are still benefiting from massive gains, with CHSB up over 12,000% from its all-time low of $0.004.
The fuel of this explosive growth was the incredible number of new users who joined our ecosystem. By becoming CHSB holders, these users could benefit from all the great utilities offered by our token, such as becoming Premium. With reduced fees and boosted yield, these users were set up for long-term wealth management.
As our token price skyrocketed, however, it became increasingly hard for new users to join this long-term vision, as Premium prices increased. Therefore, users who joined later saw less and less incentive to purchase and yield CHSB, and our growth slowed. 
It is time to reverse this trend by refuelling our rocket, but what engine can increase the value of our network?
Classical economic theory tells us that the value of a network grows alongside the number of users in the network. Think of  the internet: if only one computer was connected to the network, it would have hardly any utility. As more and more computers get connected, there is more incentive for new users to join. We see a similar pattern when comparing the number of Bitcoin holders with its price: the more people joining the ecosystem, the more everyone else benefits. 
The same is true, of course, for the CHSB token. If all CHSB tokens were held by a single person, the value of CHSB would likely be zero. By attracting new users and decreasing the concentration of CHSB, we will grow the value of our ecosystem exponentially, while reducing volatility and the risk of one large sale dumping the price of the token. 
If we want to attract new users, we need to provide a great incentive for purchasing CHSB and becoming Premium. The CHSB Yield Program is a great gateway for this, since it is the mechanism that allows token holders to accumulate tokens and plan for the long term. The more attractive the CHSB Yield Program is for these small holders, the more we can boost CHSB adoption, and the more the ecosystem value will grow in the long term.
The result? More demand for CHSB and less circulating supply, with more users locking their tokens to go Premium or holding them in their CHSB yield wallets. This will then lead to the price increasing for all.  
How can we achieve this? In this article we share our initial thinking around CHSB Yield 2.0. 
Important: Before we move on, note that all numbers and yield rates referred to in examples about how the new CHSB Yield Program will work are examples, and may change before the updated program is launched. 
We are still refining the formula used for these calculations, and have only included numbers in these examples to help better explain the principles of the new approach.  The final conditions of the new CHSB Yield Program will be displayed in the CHSB Yield Program terms and conditions. 
Plans for a new CHSB Yield Program
With the goal of growing the SwissBorg ecosystem and increasing demand for CHSB, we looked at how we could reinvent the CHSB Yield Program in a way that would reward our CHSB token holders more equitably.
We had these restrictions to keep in mind when redesigning the program:
There is a set budget for the CHSB Yield Program that is paid from the SwissBorg treasury each year. Regardless of how the program was changed, the total yield budget would remain the same.
Premium users should still benefit from their yield multiplier. Even if the program changed, Community Premium users would still get 1.5X the yield of standard users, and Genesis Premium users would still get 2X the yield.
The yield is still tied to the Community Index. We believe in the importance of tying the CHSB yield rate to the performance of our ecosystem, so the Community Index would still be the key factor to define the variable yield.
Users will still benefit from daily compounding, which leads to a larger average yield over time.
With these considerations in mind, we've designed an approach that can optimise the yield distribution in favour of growing our ecosystem, by boosting the distribution for smaller token holders. This approach follows Vitalik's alternative to the Gini coefficient called the lost utility from inequality, which is a simple and yet powerful measurement of the health of the yield distribution.
The concept is similar to how tax brackets work in certain countries, where a person is taxed based on how much they earn. If we take the UK as an example, here is how personal taxes are structured at the time of writing:



Example: Tax brackets in UK
How this works is that a person who has an income of £180,000 doesn't pay 45% tax on the full £180,000. Instead, for the first £12,570, they pay no tax at all, then between £12,521 and £50,270 they pay 20%, and so on. It is only on the last £30,000 (the amount over £150,000) that they pay 45%.
So this person would pay personal income tax of £60,932, or 33.85% of their total income.
Yield tiers would work in the same way - regardless of the total number of CHSB a holder has in the CHSB Yield Program, they would earn a set rate for each of those tiers. Those would then be combined to calculate the overall rate for their holdings.

CHSB Yield buckets
Calculating the new CHSB yield rate
As mentioned above, we will continue to have a set budget for the CHSB Yield Program each year, and the Community Index will continue to inform the yield. This means daily yield calculations will still be adjusted depending on the Community Index and the total number of CHSB held in the yield wallets.

Rewards per annum (p.a*) vs amount of CHSB held in yield wallets
These figures will still define how many CHSB are distributed through the CHSB Yield Program on an annual basis, assuming all users are Genesis Premium users. So, if the Community Index score was 7 and the number of CHSB held in the CHSB Yield Program was 300 million, the number of CHSB distributed would be 27 million, or 9% of 300 million.*
When considering how we could create a more equitable distribution framework, the first factor we looked at was defining a minimum yield rate that all of our token holders would receive, regardless of the number of tokens they hold. After this, holders in the smaller tiers would then receive a bonus on top of this minimum rate to help them grow their wealth faster.
For example, if we used the same 27 million CHSB annual budget described above but set a minimum yield rate of 4.5% for Genesis Premium users (this is an example rate based on the average CHSB yield offered before we boosted it in April), the distribution might look like this:

Example: CHSB Yield Program distribution
These example rates and calculations do not reflect the final rates of the revised CHSB Yield Program. The final rates will be displayed in the CHSB Yield Program terms and conditions and may differ from this example. 
Like the tax rate example given earlier, each user is eligible for the maximum rate for each of these tiers. So every Genesis Premium user would earn the maximum rate on their first 2,000 tokens in the yield wallet, and so on and so forth.
Using these annual yield rates as an example, here is how much users with different amounts of CHSB tokens in their CHSB yield wallets could earn.
A token holder with 5,000 tokens in the CHSB yield wallet would earn between 14.7% and 29.4% p.a. (depending on their account level) for the first 2,000 tokens in their account, then between 5.2% and 10.4% p.a. for the next 4,000 tokens. After one year at this rate, their overall earnings would be 437 CHSB (8.7%) as a standard user, 648 CHSB (12.9%) as a Community Premium user and 854 CHSB (17.0%) as a Genesis Premium user. 
A token holder with 120,000 in the CHSB yield wallet would earn up to 29.4% p.a. for their first 2,000 tokens, up to 10.4% for their next 8,000 tokens, up to 8.4% for their next 90,000 tokens, and up to 6.1% for their next 20,000 tokens. After one year at these rates, their overall earnings would be:
Standard users: 4.2%, or 5,059 CHSB
Community Premium users: 6.3%, or 7,561 CHSB
Genesis Premium users: 8.4%, or 10,046 CHSB.
Ultimately, the more a user holds in the CHSB yield wallet, the more they will earn. Every user will benefit from the higher rates available for the smaller tiers.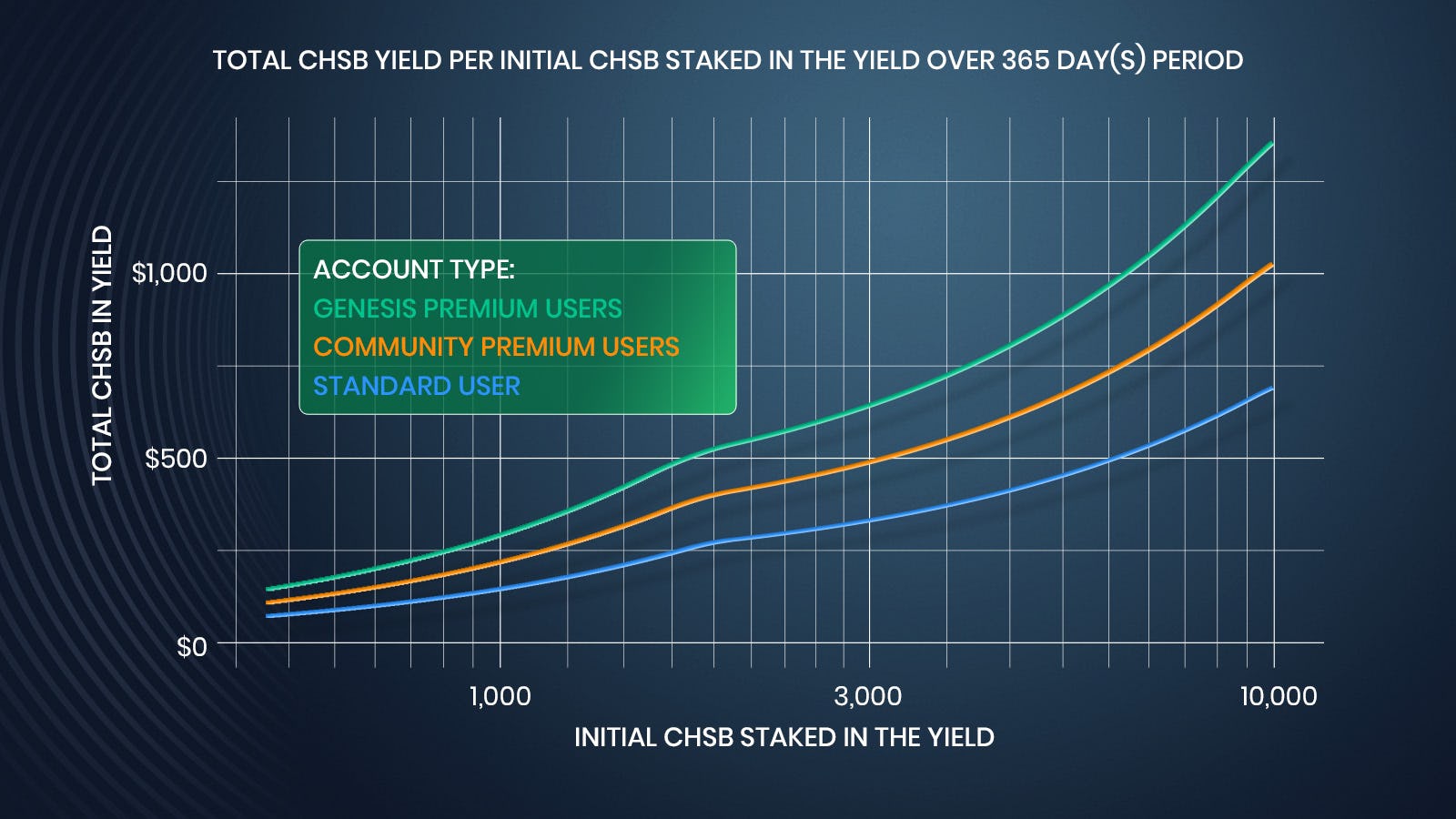 CHSB staked in the Yield over 365 day(s) period.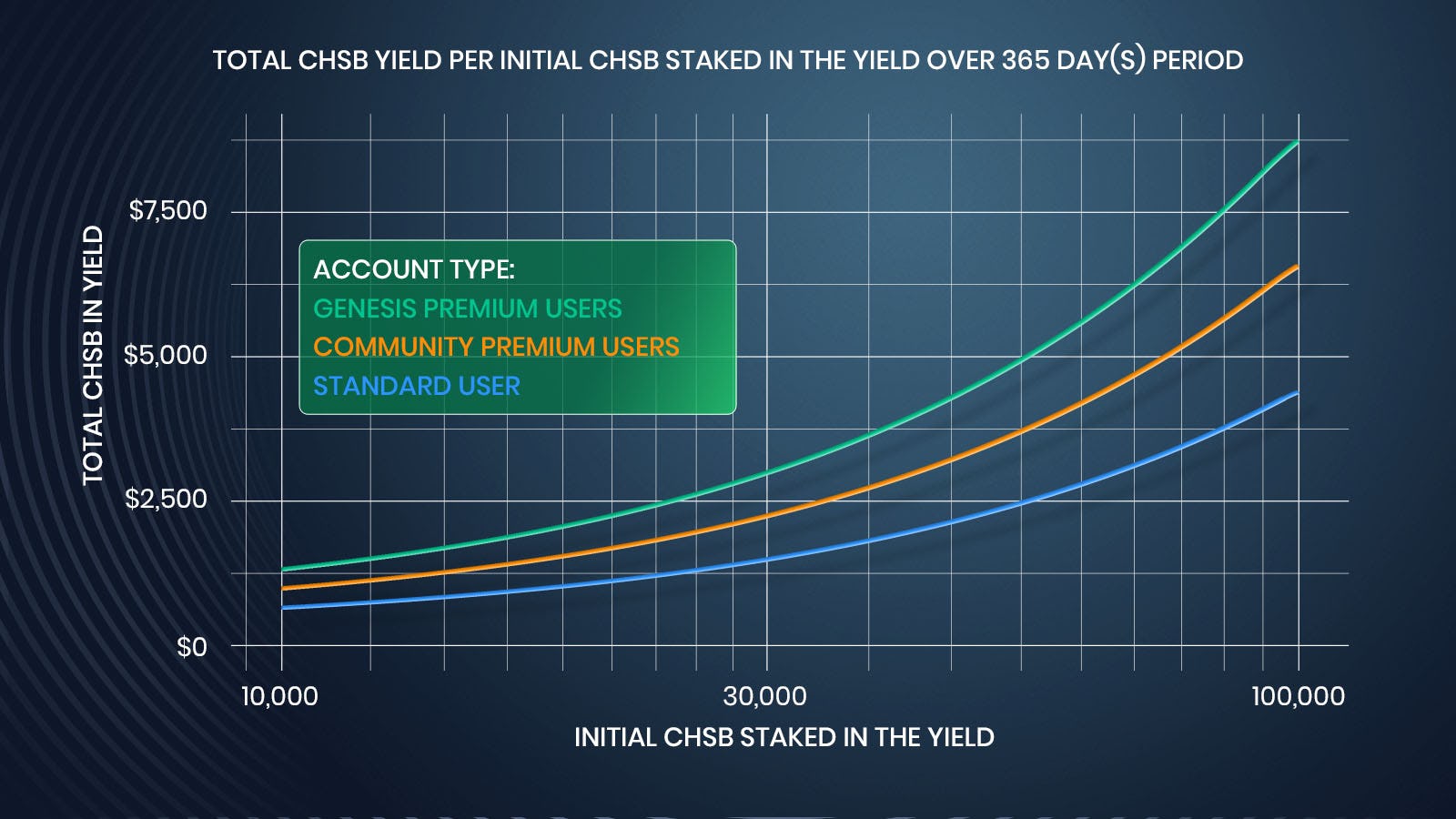 CHSB staked in the Yield over 365 day(s) period.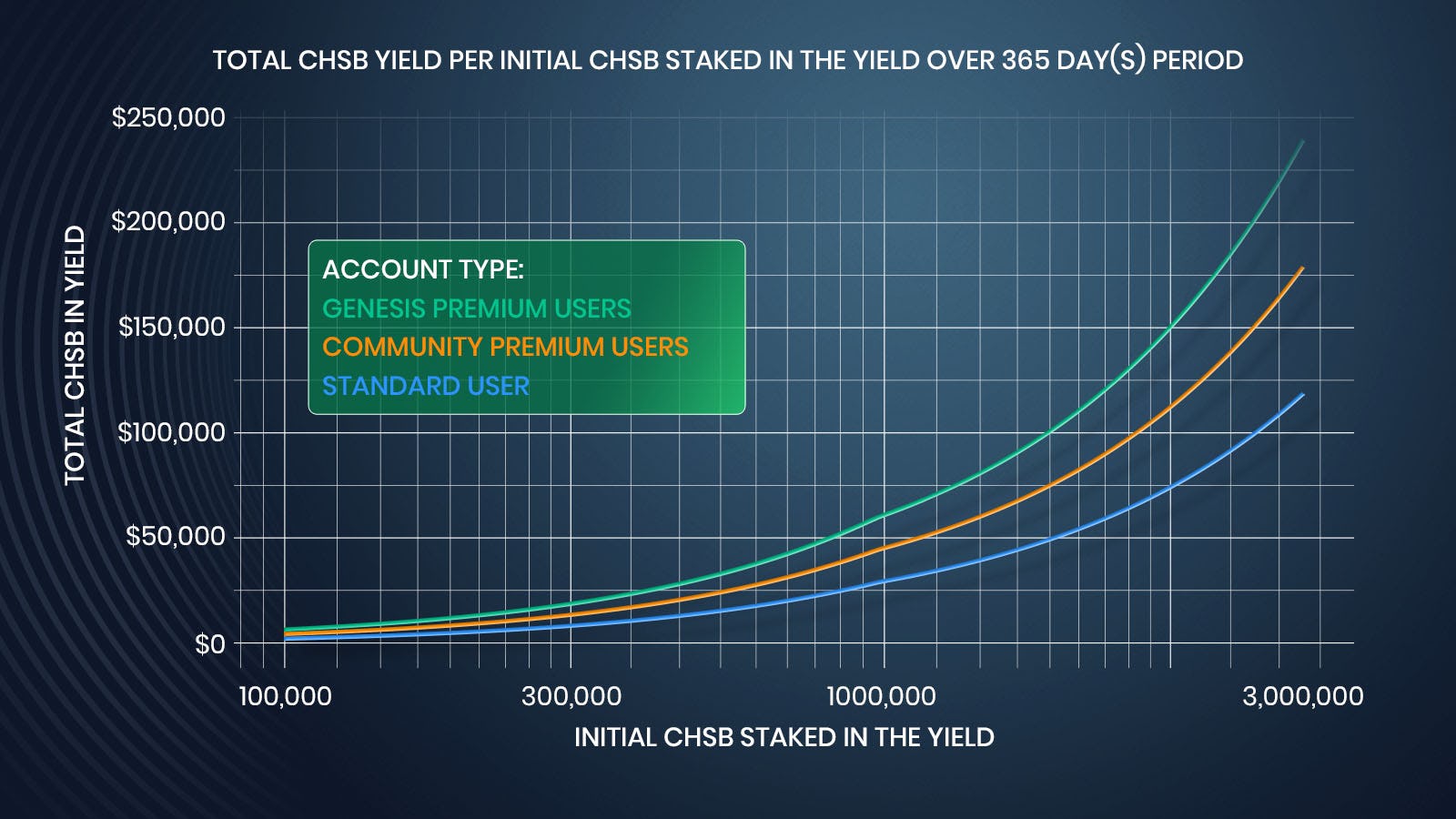 CHSB staked in the Yield over 365 day(s) period.
*Note that in reality the yield rate varies on a daily basis, so we are using annual averages for simplicity. The same goes for the multipliers for Community and Genesis Premium users, which are calculated and compounded daily and may lead to different results after 12 months.
** The yield is compounded daily, and the effective daily rate is affected by the staked amount. For more details about the calculation, please refer to our whitepaper.
Benefits of CHSB Yield 2.0
As we shared in our Q2 AMA, we believe this new approach to the CHSB Yield Program will benefit the SwissBorg ecosystem in the long term.
At the moment, it's very difficult for small token holders to earn a significant return, and to upgrade to Premium accounts. By increasing the yield for smaller token holders, they will be able to upgrade to Community Premium at a faster rate. Once they upgrade, this has twin benefits:
It will remove their locked CHSB from circulation, thereby reducing supply and increasing demand for the remaining circulating tokens (resulting in price appreciation over time).
They will immediately benefit from the 1.5X yield multiplier and reduced fees, which will encourage them to become more regular users of the SwissBorg app, and to build their crypto wealth.
With these benefits, they will continue to hold their existing CHSB, and buy more to benefit from the token's increase in value, along with continuing to earn a yield that can help them upgrade to Genesis Premium.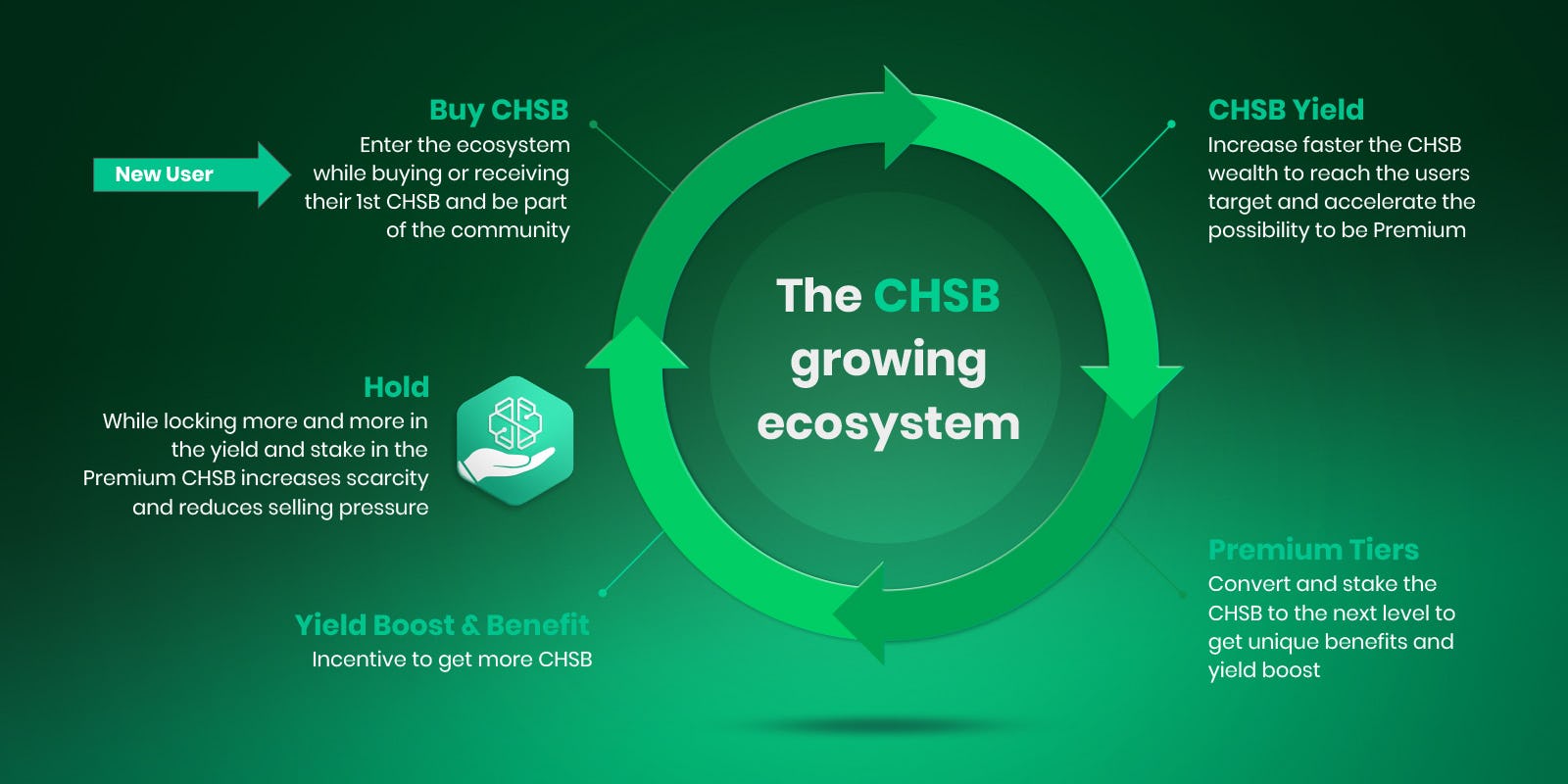 The CHSB growing ecosystem
These factors will lead to increasing demand for CHSB and the new CHSB Yield Program at the same time as more of the circulating supply is locked. This will help CHSB's price appreciate and boost growth of the SwissBorg ecosystem, which will increase the returns for all CHSB token holders - both large and small.
Again, a rising tide lifts all boats, so let's raise the tide for CHSB and we will all benefit as a result!