Earn up to 4% p.a. on Polygon with SwissBorg!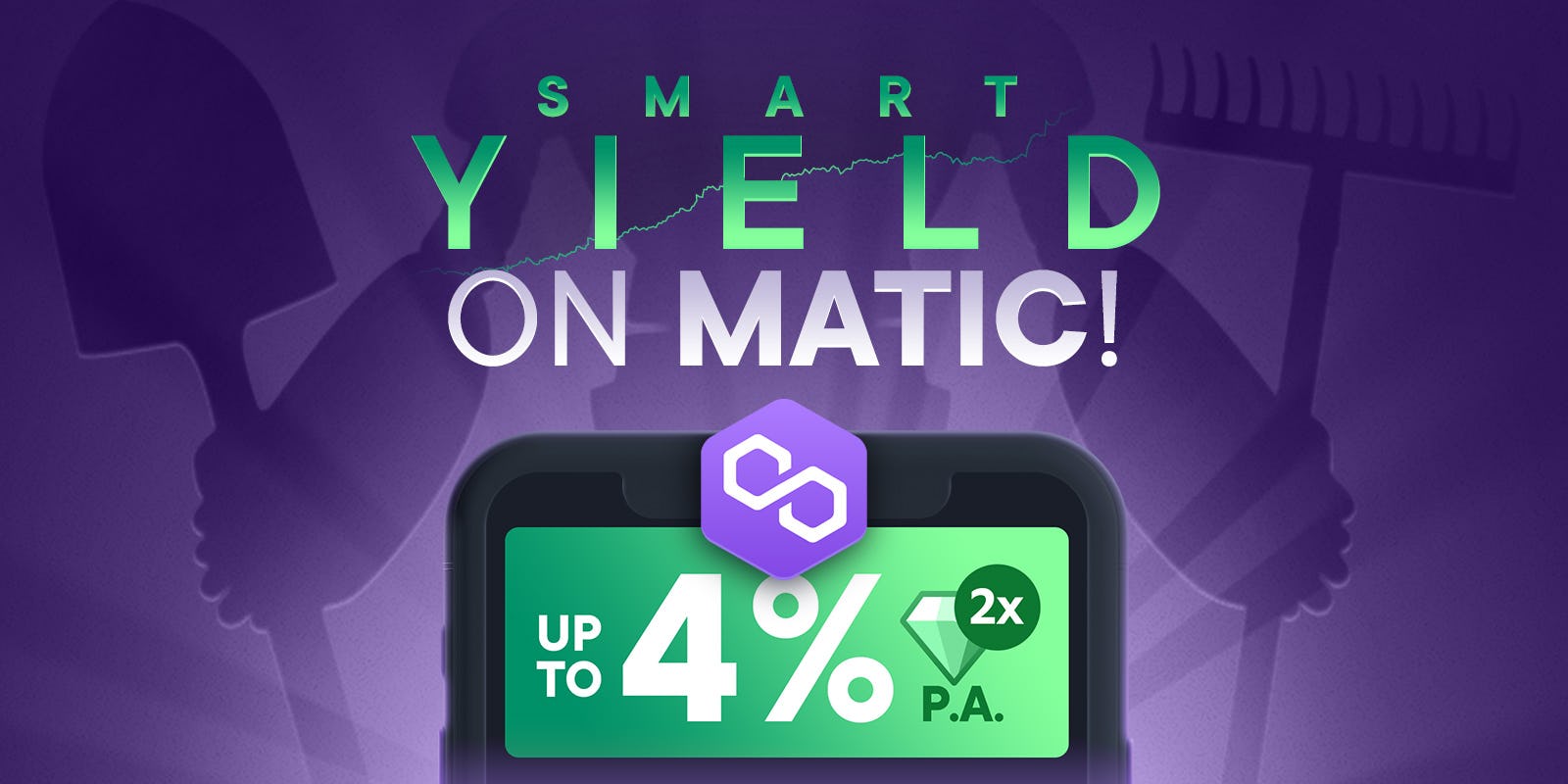 We are excited to share that as of 2nd September 2021, SwissBorg users can start earning a yield on the latest token added to the SwissBorg app - Polygon (MATIC)!
With the MATIC Smart Yield wallet, users can earn a yield of up to 4% p.a.
MATIC is the seventh token to be added to the Smart Yield program, alongside BTC, ETH, BNB, USDC, USDT and XRP. The MATIC Smart Yield wallet includes all the existing benefits of the Smart Yield program:
Every day, the Smart Yield strategy optimiser monitors and rates all available investment opportunities based on their risk and only invests in the lowest-risk platforms.
Your holdings earn a variable yield that ensures you are getting the highest available yield for the best risk/return ratio, every day.
Your yield is compounded on a daily basis, which leads to a higher cumulative yield over time.
You can start earning with just $10, and there is no minimum investment period - all redemptions are actioned within 24 hours.
Boost your yield with SwissBorg Premium
You can also boost your yield rate by upgrading to a SwissBorg Premium account. There are currently two tiers available:
Genesis Premium: Stake 50,000 CHSB to earn 2X the standard yield
Community Premium: Earn 1.5X the standard yield by staking just 2,000 CHSB
All Premium users also get discounted fees on their exchanges - from as low as 0% on BTC, CHSB and stablecoins for Genesis Premium users.
Note that staking doesn't involve paying or losing any tokens - the tokens you put towards your Premium account are still yours, they are just locked for 12 months. At the end of the 12-month period, you can freely unstake your CHSB and use them for exchanges or yielding (though remember that if you unstake, you will lose your Premium benefits).
To go Premium, go to the Premium tab in the SwissBorg app and choose whether you would like to upgrade to the Genesis or Community tier.
How to transfer MATIC to the SwissBorg app
To add MATIC to the SwissBorg app so you can start earning a yield, simply:
Open the SwissBorg app and tap Deposit
Choose MATIC as the crypto asset you would like to transfer
Copy your MATIC address to the wallet where you hold your MATIC tokens
Send your MATIC using the ERC-20 protocol.
Important: If you want to transfer MATIC to the SwissBorg app, then you must use the ERC-20 protocol. If you don't use the ERC-20 protocol, your tokens will be lost.
How to start earning a yield on MATIC
To activate your MATIC yield wallet in the SwissBorg app:
Update your app to the latest version
On the Portfolio screen and tap on MATIC
Scroll down, and tap the Yield Wallet card
Tap Top Up
Choose how much you would like to add to your yield wallet
Follow the prompts to start earning a daily yield!
Note that while there is no minimum investment period, redemptions are actioned every 24 hours. Once you ask to redeem funds, they will be transferred to your active account at 8am GMT the following day.